IVMF's Community Services Program
Service, integrity, and accountability, are stressed at every level in the US military. Outside the military, the service aspect of these important traits is supported by Syracuse University through the Institute for Veterans and Military Families (IVMF) Community Services Program.
At IVMF, Community Services focus on helping veterans positively affect themselves and their communities. This is done through a variety of different avenues, one of those being through working with AmericaServes.
AmericaServes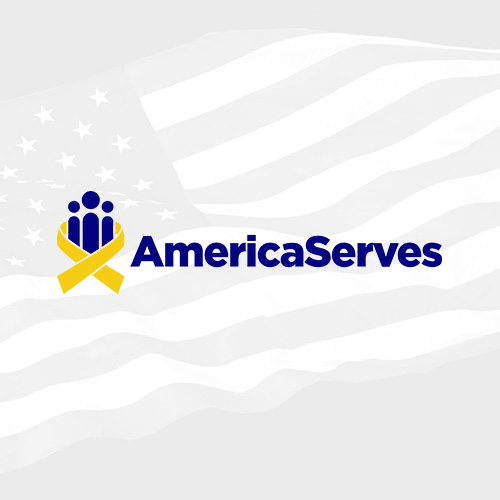 According to a Google study, one of the largest challenges for veterans is the ability and know-how to navigate the vast amount of resources available to them. America Serves is a movement as well as a network of organizations whose goal is rooted in building the connection between veterans and the resources specific to their goals, and needs.
AmericaServices is helping to change the way communities care for and support veterans and their families and it is comprised of three main components: insights, support, and Practice360.
Insights and Support
AmericaServes specifically works closely with insights and support to achieve their goal of connecting veterans with the appropriate resources. Insights supports AmericaServes by using technology and data in order to accurately communicate information that supports the business needs of veterans. This is done through a dedicated research team that measures, analyzes, interprets, and evaluates data. This data is found by monitoring multiple domains and that information is then utilized to positively impact veterans' everyday life.
The support element of the AmericaServes movement takes a special look at community based, non-profit human services agencies that support veterans as well as their families and focus specifically on real ways to improve their lives on an everyday basis.
Practice360
Practice360 "is a collective learning network fueled by communities of practice."  https://americaserves.org/what-we-do/practice-360/
Communities of practice are groups of like-minded individuals who serve the military veteran community.
One of the ways Practice360 contributes is by hosting training conferences, professional developmental opportunities, and other special events. These events focus on finding, creating, and using more refined forms of service and service delivery.
The IVMF has put together a "first of its kind" network that is creating and implementing real change with AmericaServes. These changes support veterans, their families, and, on a larger scale, the community as a whole. Between the insights, support options, and Practice360, communities will continue to improve and contribute to veterans' lives overall.
To learn more about the great things that are happening at the Institute for Veterans and Military Families, visit https://ivmf.syracuse.edu/
If you're an organization looking to build your companies talent pool, then contact us – Ridgeback Business Solutions as we provide highly focused veteran recruiting services.
To learn more, you can reach us at
Phone: (646) 883-2927
Email: [email protected]