IVMF's Community Services Program
Service, integrity, and accountability remain central values within the US military at every level. Beyond military service, Syracuse University champions these core principles, as evident through its Institute for Veterans and Military Families (IVMF) Community Services Program.
IVMF's Community Services Program is dedicated to empowering veterans to make positive impacts both within themselves and their communities. This objective is realized through diverse channels, including strategic collaboration with AmericaServes.
AmericaServes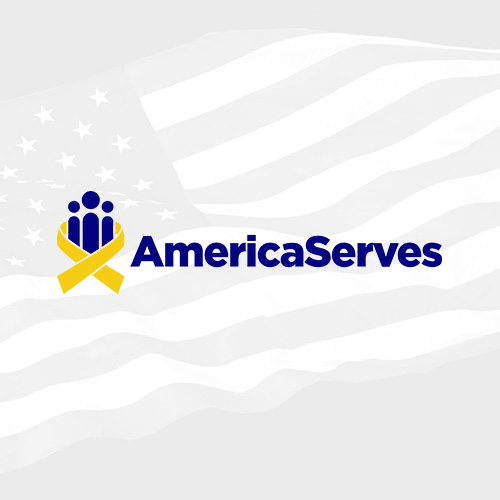 According to a Google study, one of the largest challenges for veterans is the ability and know-how to navigate the vast amount of resources available to them. America Serves embodies a dynamic movement, encompassing a vast network of organizations.
The overarching objective firmly anchors itself in fostering a seamless connection between veterans and the multitude of resources, finely tailored to their unique aspirations, requirements, and objectives.
AmericaServices is helping to change the way communities care for and support veterans and their families and it is comprised of three main components: insights, support, and Practice360.
Insights and Support
AmericaServes, with a dedicated focus on linking veterans to the right resources, closely collaborates to provide comprehensive support. To achieve their goal, AmericaServes partners intricately with Insights, using cutting-edge technology and data-driven methods. This synergy ensures vital information reaches veterans, fulfilling their business needs. A specialized research team rigorously measures, analyzes, interprets, and evaluates data for informed decisions.
Vigilant monitoring across domains is central, yielding invaluable insights. This data fuels a positive impact on veterans' daily lives. Beyond data, AmericaServes supports community-based agencies. These non-profits enhance veterans' lives, including their families, with commitment.
Practice360
Practice360 "is a collective learning network fueled by communities of practice."  https://americaserves.org/what-we-do/practice-360/
One way Practice360 significantly contributes is by hosting training conferences, professional development opportunities, and other special events. These events not only offer learning platforms but also play a crucial role in emphasizing the importance of finding, creating, and effectively utilizing more refined forms of service and service delivery. Moreover, fostering an environment of continuous improvement, Practice360 ensures that these gatherings facilitate seamless knowledge exchange.
In a similar vein, the IVMF has pioneered a 'first of its kind' network through AmericaServes, dedicated to creating and implementing tangible change. This groundbreaking initiative not only provides extensive support to veterans and their families but also remarkably extends its impact to the broader community. Through insights gained, diverse support options provided, and collaborative efforts orchestrated by Practice360, communities will undoubtedly experience numerous ongoing enhancements. Consequently, these cumulative efforts will undeniably make significant and lasting contributions to the overall well-being of veterans' lives.
For more in-depth insights into the remarkable endeavors taking place at the Institute for Veterans and Military Families, I encourage you to explore https://ivmf.syracuse.edu/
If your organization is actively seeking ways to expand its talent pool, I urge you to get in touch with us – Ridgeback Business Solutions. We specialize in providing highly targeted veteran recruiting services that can empower your company's growth and success.
To learn more about our offerings and how we can assist you, don't hesitate to reach out to us at:


Phone
: (646) 883-2927
Email: info@teamridgeback.com